Hyundai electric vehicles (EVs) come in contemporary designs and have innovative technology features and roomy, comfortable interiors. New EVs from Hyundai include SUVs and a sedan, so you're sure to be able to find one to fit your lifestyle.
EVs are the vehicles of the future. They create zero emissions and leave a smaller carbon footprint than gasoline-powered vehicles. Hybrid and plug-in hybrid cars use a combination of electric and gas or diesel to run the vehicle. While these hybrids also emit fewer emissions, they rely primarily on fossil fuels for power. EVs are cleaner and quieter. Continue reading as our Huffines Hyundai team in McKinney, Texas, shares more about Hyundai EVs.
Which Hyundai EVs Are Out?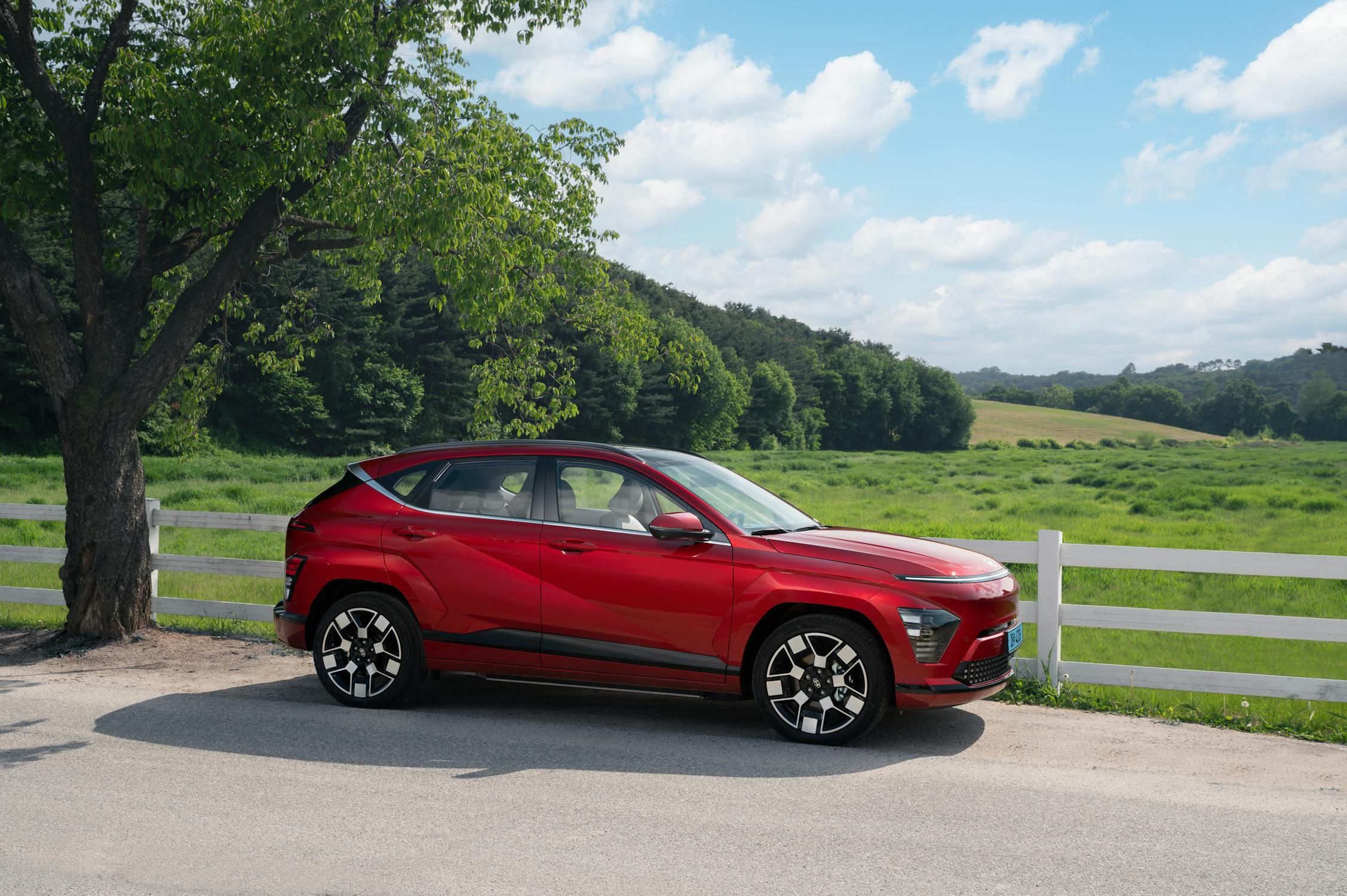 We know that Hyundai will release three all-electric vehicles in 2024.
The IONIQ 5
We don't expect any significant changes for the 2024 IONIQ 5 SUV. This SUV comes with rear-wheel drive or optional all-wheel drive. You can get three ranges with this SUV. With the standard rear-wheel-drive range, the IONIQ 5 has a 58 kWh battery pack and a permanent-magnetic synchronous motor to create 168 horsepower and 258 lb-ft of torque. This system has a driving range of 220 miles.
Choose the advanced rear-wheel-drive range, and you get a 77.4 kWh battery pack with the same motor with an output of 225 horsepower and 258 lb-ft of torque and a driving range of 303 miles. The all-wheel-drive version uses a 77.4 kWh battery pack plus a 165 kWh battery pack and electric motor for an output of 320 horsepower and 446 lb-ft of torque with a driving range of about 260 miles.
Hyundai offers the IONIQ 5 in three trims with two rows of seats that can fit up to five people. Heated front seats come standard across the trims, as do an eight-way power driver's seat. Hyundai's infotainment system has a 12.3-inch color touch screen with Apple CarPlay and Android Auto compatibility. Depending on the seating configurations, you can get up to 59.3 cubic feet of cargo space in the rear of the IONIQ 5.
The IONIQ 6
The 2024 IONIQ 6 is a striking midsize sedan with sleek futuristic styling. Hyundai states this is a carry-over model with no significant changes from the 2023 model. Under the hood of this sedan, you'll find the same powertrain options on the IONIQ 5, as both Hyundai vehicles use the same platform. The Standard Range IONIQ 6 rear-wheel drive has a driving range of about 240 miles, the rear-wheel drive sedan of approximately 305 miles, and the all-wheel drive of 270 miles.
The cabin's layout is like the IONIQ 5, but it's a sedan with two rows of seats for up to five people. You'll get 11.2 cubic feet of cargo space in the trunk with a minimal 0.5 cubic feet of space in the front trunk. You'll also find the same technological features in the IONIQ 6 as its SUV counterpart.
The KONA Electric
Hyundai has redesigned the KONA compact SUV with futuristic styling, a revamped interior with more passenger room, and an all-electric powertrain. You can get the KONA Electric in a short-range or a long-range version. The short-range version has a single motor and a 48.6 kWh battery pack with a driving range of 197 miles. The combination creates 133 horsepower and 188 lb-ft of torque.
If you choose the long-range KONA Electric, it comes with a 64.8 kWh battery pack paired with one electric motor for an output of 201 horsepower and 188 lb-ft of torque for a driving range of 260 miles. Hyundai claims that with the 400-volt charging system, the KONA Electric can charge from 10% to 80% in about 45 minutes.
The 2024 KONA Electric is 6 inches longer than the gas-only KONA, with an additional 2.3 inches between the wheelbases. The additional inches give you more interior space for driver and passenger comfort. This SUV has a front trunk with 1.0 cubic feet of storage space; in the rear section, you can get 25.5 cubic feet of cargo space.
Up to five people can ride comfortably with two rows of seats. You'll notice the KONA Electric's upscale interior styling. It has a sleek, minimal feel and luxury features, including ambient lighting strips and a storage shelf on the dashboard. Hyundai's infotainment system comes with two 12.3-inch displays with wireless Apple CarPlay and Android Auto smartphone integration.
Upcoming Hyundai Electric Vehicles
From what we know now, Hyundai has plans to produce and release 11 new EVs by 2030, including three sedans, six SUVs, and one light-duty commercial vehicle. Hyundai also teases one new model type without giving any specifics.
Hyundai has also made a concept SUV: the three-row IONIQ 7. From the released photos, you'll feel like you're riding in a luxury RV, with swiveling captain's chairs, sofa-style rear seating, and spacious panoramic windows.
Which Hyundai EV Should I Get?
Deciding which Hyundai EV to get is a personal choice. You want to factor in size, driving range, and technology features. If you're a couple or a small family and plan on mostly driving around town, the KONA Electric is a solid choice. The IONIQ 5 is ideal for those needing more room and a longer driving range. If you enjoy driving an all-electric luxury sedan, consider the 2024 IONIQ 6.
Find Your Perfect Hyundai EV Today
At Huffines Hyundai McKinney, we have a large inventory of new Hyundai vehicles, including electrified versions. We also have a wide range of Hyundai specials to explore so you can find the perfect Hyundai of your dreams, whether it's electrified or gas-only. Our professional finance team can help you find an auto loan to fit your budget and needs. Regularly servicing your vehicle can help keep it safe and extend its longevity, and our highly trained, certified service technicians will take top-notch care of your Hyundai or other vehicle at our state-of-the-art service center. Schedule your service today.