Earlier this year, Hyundai committed to spending more than $5 billion to build a facility in Georgia that is dedicated to producing electric vehicles and the batteries for them. It will be the very first Hyundai facility of its kind in the U.S., and it shows just how dedicated this automaker is when it comes to manufacturing electric vehicles in the not-too-distant future.
But it's worth noting that this will not be Hyundai's first foray into the world of electric cars. In fact, the company began developing electric cars all the way back in the 1990s and has been toying with the idea of mass-producing electric cars ever since.
Hyundai's 2022 electric vehicle lineup might still be on the small side, especially when you compare it with Hyundai's 2022 hybrid lineup. But it does demonstrate Hyundai's commitment to manufacturing more electric vehicles in the years to come. Take a look at the new lineup below.
Hyundai IONIQ 5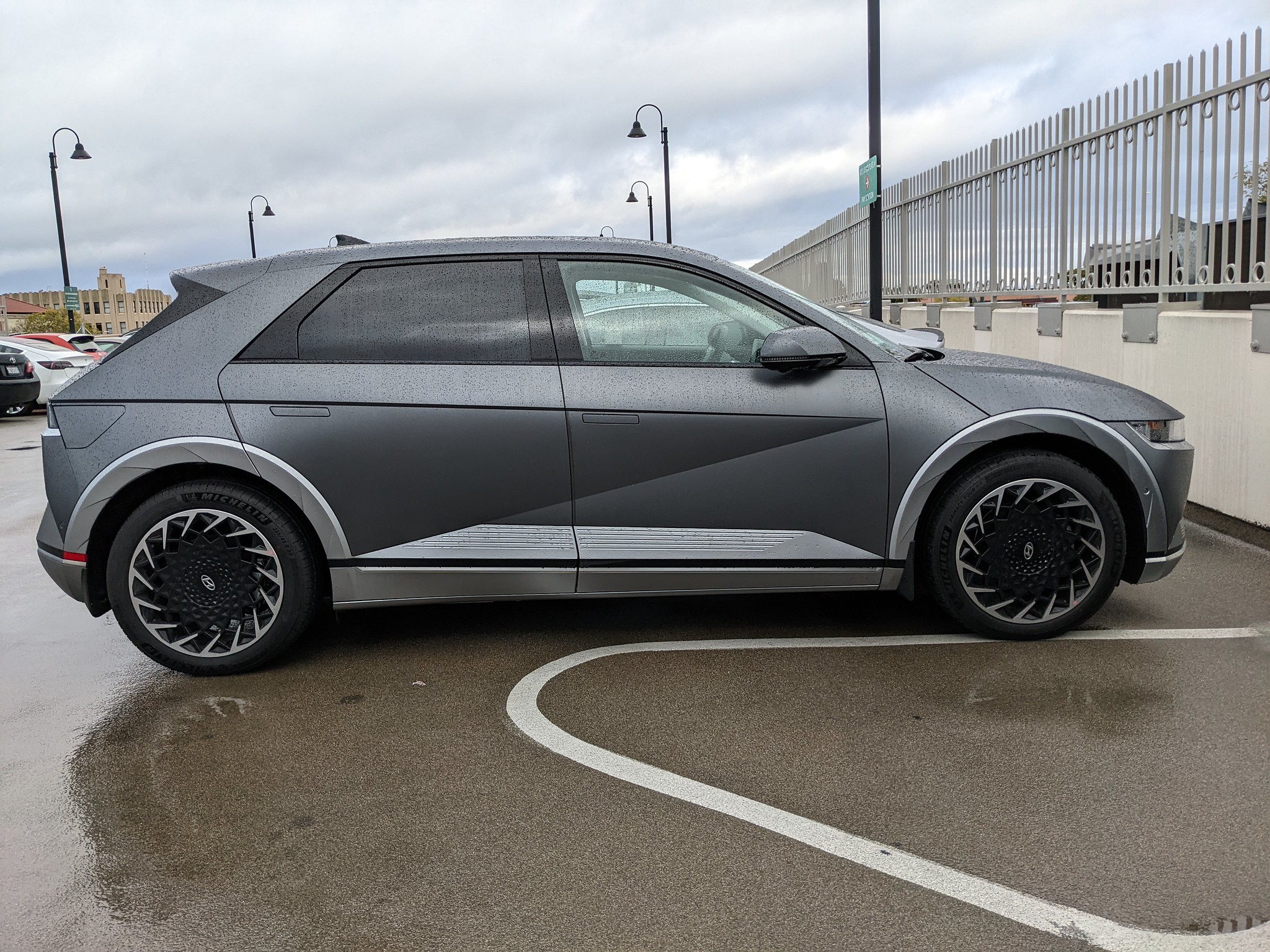 Over the course of the next decade, Hyundai promises to release a whole host of all-electric vehicles to the masses. When it does, you'll be able to trace the roots of all these electric vehicles back to the Hyundai IONIQ 5.
The IONIQ 5 is the first all-electric vehicle that Hyundai created. It features a range of up to 300 miles on a full charge and proves how much potential Hyundai has when it comes to manufacturing electric vehicles.
Aside from the fact that the IONIQ 5 ushers in a new era for Hyundai in terms of using electricity to power its vehicles, it's also a great-looking SUV that pushes the boundaries of design. It looks like it's straight out of the future and is definitely something different from what most people have come to expect from Hyundai SUVs.
Hyundai KONA Electric
If you thought Hyundai was only planning on dipping its toe into the water of electric vehicles when it unveiled the IONIQ 5, think again. As well as introducing the IONIQ 5, the automaker also recently revealed the KONA Electric.
Just like the IONIQ 5, the KONA Electric runs on electricity only. It doesn't quite match the impressive range of the IONIQ 5, but it can still run for about 258 miles before you need to charge it. But that's still a pretty high number for one of the first electric vehicles Hyundai has ever produced.
The KONA Electric is also similar to the IONIQ 5 in that it has a bold design that sets it apart from all the other Hyundai SUVs available, including the IONIQ 5. The styling Hyundai went with for the KONA Electric is bold and aggressive, which should make it a huge hit for more than just its electric vehicle capabilities.
Hyundai Tucson Plug-In Hybrid
The Hyundai IONIQ 5 and the Hyundai KONA Electric are the only two all-electric vehicles in Hyundai's 2022 electric vehicle lineup. But they aren't the only Hyundai vehicles in the current lineup capable of running on electric power for extended periods.
The Hyundai Tucson Plug-In Hybrid, for example, can run exclusively on electricity when you want it to. For now, it can only travel up to 33 miles on electricity alone, but that will be enough for many people who want to start reducing their reliance on gasoline.
Hyundai Santa Fe Plug-In Hybrid
The Hyundai Santa Fe has long been one of the most rugged SUVs in the Hyundai lineup. Now, it's also one of the most rugged electric vehicles in Hyundai's 2022 electric vehicle lineup.
Similar to the Tucson Plug-In Hybrid, the Santa Fe Plug-In Hybrid can travel up to 30 miles at a time on electric power alone. It can also get about 33 miles per gallon when you have to rely on gas to help you drive that extra distance.
As if that isn't enough, the Santa Fe Plug-In Hybrid also comes jam-packed with tons of fun features that will help you enjoy all the adventures you take it on. It's spacious, includes all the latest technology, and comes with HTRAC all-wheel drive as standard, so you'll be ready for any situation you find yourself in.
What's Going To Come After Hyundai's 2022 Electric Vehicle Lineup?
Hyundai's 2022 electric vehicle lineup is already pretty impressive, to say the least. But Hyundai hasn't finished developing its range of electric options by any stretch of the imagination.
Hyundai is currently working on a small, affordable electric vehicle that they're planning to release in Europe first before possibly selling it in other markets. This automaker is planning to have almost a dozen electric vehicles in its lineup by the time 2030 rolls around.
Hyundai is obviously not the only car company that's making a big push to produce more electric vehicles. But its executives have been very vocal about the company's commitment to producing more electric options, and this has led to a lot of excitement surrounding the Hyundai brand as a whole.
Test-Drive an Electric Vehicle From Hyundai Today
Does Hyundai's 2022 electric vehicle lineup have you considering the idea of purchasing a hybrid or electric vehicle sometime soon? If so, you should try taking one of Hyundai's great electric options out for a test drive to see how you like it.
We carry a whole range of new Hyundai vehicles and can help you get behind the wheel of one. We invite you to take a trip down to our McKinney, Texas, dealership so you can see what the latest Hyundai models are all about. You can go for a test drive in your favorite one or ask any questions you have about the new releases.
Reach out to us today to discover more about Hyundai's 2022 electric vehicle lineup.